SERVICE
MATERIALS TESTING (CMCs)
Mechanical Testing
Continuously innovating and evolving.
Ceramics Matrix Composite
CMCs have been under development for high temperature application in aviation engines and gas turbines. It requires a large amount of data prior to commercial application. Kiguchi is recognized as a world leader in CMCs testing, allowing the maximum temperature of 1400℃ for the following test items.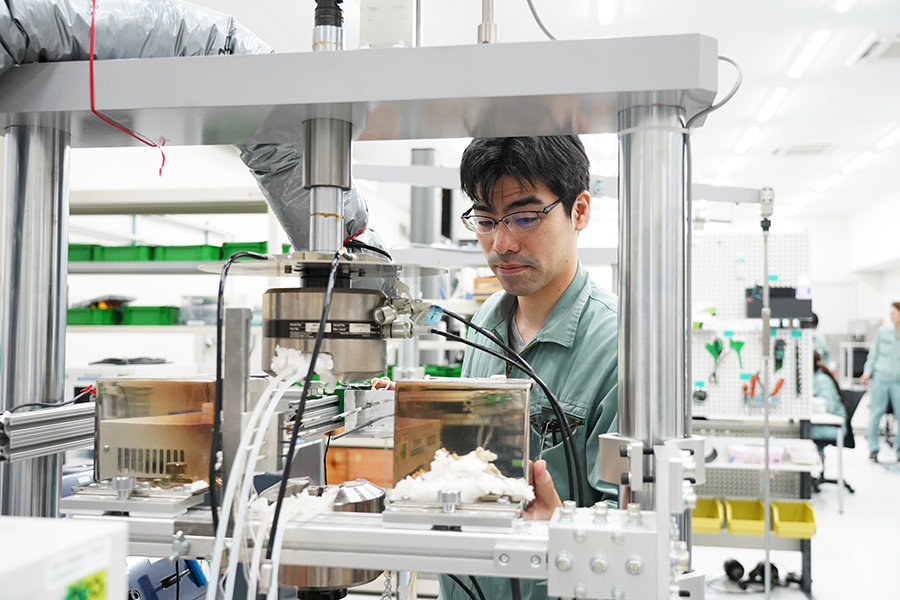 Test Method/Specification
Tensile
ASTM
C1273
Standard Test Method for Tensile Strength of Monolithic Advanced Ceramics at Ambient Temperatures
ASTM
C1275
Standard Test Method for Monotonic Tensile Behavior of Continuous Fiber-Reinforced Advanced Ceramics with Solid Rectangular Cross-Section Test Specimens at Ambient Temperature
ASTM
C1366
Standard Test Method for Tensile Strength of Monolithic Advanced Ceramics at Elevated Temperatures
ASTM
C1425
Standard Test Method for Interlaminar Shear Strength of 1D and 2D Continuous Fiber-Reinforced Advanced Ceramics at Elevated Temperatures
Creep
ASTM
C1291
Standard Test Method for Elevated Temperature Tensile Creep Strain, Creep Strain Rate, and Creep Time to Failure for Monolithic Advanced Ceramics
ASTM
C1337
Standard Test Method for Creep and Creep Rupture of Continuous Fiber-Reinforced Advanced Ceramics Under Tensile Loading at Elevated Temperatures
Shear
ASTM
C1292
Standard Test Method for Shear Strength of Continuous Fiber-Reinforced Advanced Ceramics at Ambient Temperatures
Bend
ASTM
C1161
Standard Test Method for Flexural Strength of Advanced Ceramics at Ambient Temperature
ASTM
C1341
Standard Test Method for Flexural Properties of Continuous Fiber-Reinforced Advanced Ceramic Composites
Compression
ASTM
C1358
Standard Test Method for Monotonic Compressive Strength Testing of Continuous Fiber-Reinforced Advanced Ceramics with Solid Rectangular Cross Section Test Specimens at Ambient Temperatures
Fatigue
ASTM
C1360
Standard Practice for Constant-Amplitude, Axial, Tension-Tension Cyclic Fatigue of Continuous Fiber-Reinforced Advanced Ceramics at Ambient Temperatures